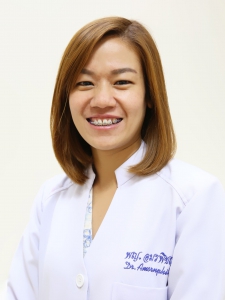 Dr. Amornphit Kittipoojanasit Hite
Methadone Maintenance Therapy
| | |
| --- | --- |
| Q. | What is methadone? |
| A. | Methadone is a synthetic opioid used as a replacement drug in the medical treatment of opioid addiction. Methadone is used for short-term treatments of opioid withdrawal and long-term opioid replacement therapy. Methadone is longer acting when compared to other opioids, such as heroin, morphine, and codeine, and can be administered once a day to prevent withdrawal symptoms during the detoxification from other opioids. Hospitals that provide methadone treatment services must be registered with the Ministry of Public Health. |
| | |
| --- | --- |
| Q. | Who is inclined to use methadone? |
| A. | Methadone users are people who have been regularly using opioids as prescribed pain medication or those who are addicted to opioids and would like to stop using them. In the initial phase of treatment, methadone is used to help manage withdrawal symptoms. The dosage is slowly tapered until the person no longer needs it. In selected cases, long-term methadone replacement may be necessary. |
Q.

What types of services are available at the methadone clinic?

A.
The first step of treatment is the assessment of symptoms and severity of withdrawal and/or intoxication. For severe cases of intoxication, hospitalization and/or the immediate administration of an antidote may be required.

The next step is an interview of the patient's personal and past treatment history. This information will help determine the amount of methadone to be administered and include an assessment and treatment of any underlying psychiatric illness. Opioid users may also have co-existing disorders, such as major depressive disorder, stress-related disorder, sleep disorder, or bipolar disorder.

In addition to pharmacotherapy, the hospital also provides psychotherapy and counseling, which focuses on providing psychoeducation about opioid addiction and skills that will help you manage your recovery.
Q.

How do I prepare myself for treatment?

A.
If you have received methadone maintenance therapy in the past, please bring any documents related to your past treatment history. Examples of valid documents include treatment summary, doctor's certificate or methadone prescription card.

If you are unable to provide the information yourself, please bring a caretaker or close family member who can provide the information about your past treatment history and symptoms to assist with the assessment.
Related Posts

---