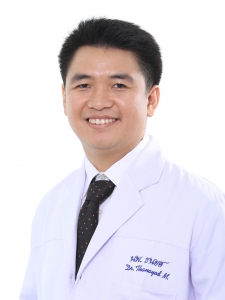 Dr. Thanayod Moonla
Hydrotherapy
The Bangkok Hospital Chiang Mai Rehabilitation Center has a new hydro-physio therapy machine consisting of an integrated treadmill with easy access for patients of all ages and levels of mobility. Hydrostatic water pressure decreases risks of joint and muscle injuries while maximizing the effectiveness of physical therapy. The water pressure and depth are adjustable to the individual's fitness and physical abilities.
The hydro-physio therapy machine is set up in a private room. A screen displays your leg movement during exercise. By seeing your leg movement, remedial actions required to make a correction are taken. Hydro-physio therapy can be useful for rehabilitation and recovery, sports conditions, obesity, orthopedic, post-operative, and general care to promote fitness and improve quality of life.
Hydro-physio uses water to support the body weight. Bodyweight inside the water is less than bodyweight outside of the water. For this reason, the patient is able to move better, easier, and with less impact. Water temperature is adjustable to reduce pain and discomfort while exercising.
Hydrotherapy is an ideal treatment for patients with muscle weakness, quadriplegics, or chronic muscle failure related to a disease process. Hydrotherapy can assist in the physical and mental recovery process in many conditions and situations.
Chronic Muscle and Joint Pain
Appropriate exercises are prescribed and water temperature adjusted to focus on the injured body part, improving muscle strength and helping the patient return to normal daily activities.
Athletics
Hydrotherapy can assist athletes preparing to compete and recover from injuries.
Bone Injuries
Patients in post-surgery or cast removal stage may have pain, joint stiffness, and some limitation on movements, which may cause difficulty in exercising. Hydrotherapy helps support body weight and makes it easier to move with less pain.
Geriatric Patients with Ambulatory Issues
Patients with unstable balance, short stepping and hunch backing, can utilize the benefits of hydrotherapy to support the body weight and make it easier to ambulate. Exercising for this group is difficult on a flat surface. Hydrotherapy can also benefit geriatric patients with knee surgery.
Patients with Heart Problems
Patients with heart muscle weakness may experience poor blood supply to the heart muscle. Hydrotherapy is used to help make the heart stronger and help improve blood circulation.
Pregnant or Postpartum Patients
Hydrotherapy may be the best choice of therapy for this patient group, especially post-delivery patients with bodyweight issues and small children from three months to two years old.
Special Children
Hydrotherapy helps in children under 12 who have balancing issues, are slow in their physical development, and have a body weight that is below normal. A therapist will work with inside the pool with your child.
Patients with Weight Problems
Weight training programs are designed to increase muscle strength by using jet streams and adjusting the speed and slope of the treadmill.
Treatment Plan
The doctor will examine the patient and design an exercise program according to the patient's medical and physical conditions. A physiotherapist closely monitors each patient during treatment in a private treatment room. The water is changed and sterilized after each usage
Hydro-physiotherapy Qualifications
Each patient must satisfy the following conditions to use Hydrotherapy:
Normal heart rate
Alert and oriented
Certified by the doctor and physiotherapist
No uncontrolled heart disease
No open wounds
No contagious skin diseases
Women cannot be on their period
Hydrophysiotherapy Qualifications
Decrease impact to the joints
Aides in balancing and movements of the body
Warm water helps increase blood circulation and body temperature
Aides in the flexibility of muscles and joints
Decreases pain, joint stiffness, and aids in relaxation
Aides in exercises and increasing muscle strength by using jet stream and adjustable bell speeds
Adjustable water temperature can aid in exercising and as a muscle relaxant
Related Posts

---